E-mail
Please refer all your querys, account openings, etc. to:
hosting AT skyservers DOT org
Or use this form: contact
Your query will be answered within 24 hours.
Real time support
We are also available for contact through MSN's instant messaging system with the e-mail hosting AT skyservers DOT org
Support
If you are already a partner with an account, and wish to have support on your account, use the ticketing system available at:
http://www.skyservers.org/support
Linking to us
If your site is hosted by us you are free to use these banners to link back to our site.
Dark background:
<a href="http://www.skyservers.org" target="_blank"><img src="http://www.skyservers.org/small_banner_black.gif" alt="Powered by skyservers.org" width="200" height="100" border="0" longdesc="http://www.skyservers.org"></a>
Light background: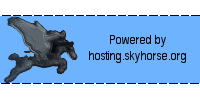 <a href="http://www.skyservers.org" target="_blank"><img src="http://www.skyservers.org/small_banner_white.gif" alt="Powered by skyservers.org" width="200" height="100" border="0" longdesc="http://www.skyservers.org"></a>